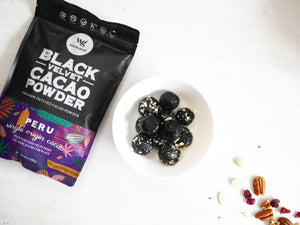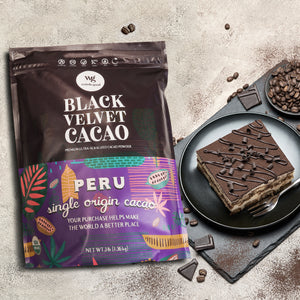 Black Velvet Cacao 3 lb
Sale price Price $28.99 Regular price $41.99
Black Velvet Cacao 14 oz
Sale price Price $15.99 Regular price $18.99
Black Velvet Cacao Bulk 27.5 lb: $178 + shipping
Contact us at: hi@weirdogood.com to order!
(Promotions not eligible for bulk orders)
WEIRDO-REOS! Homemade Crème-Filled Chocolate Sandwich Cookies
Make these cookies at home by using our organic black velvet cacao.
SHOW ME THE RECIPE!
BLACK VELVET CAKE
Using our Black Velvet Cacao, you can make a natural Black Velvet Cake without any additives or artificial colorings!
Show Me The Recipe!
" This cocoa is so good your tongue will start dancing and slap your brains out. I tested a bit on a spoon to compare with the others we got and wow!!! This is far beyond compare the best cocoa powder I've ever had. "
" This is by far the best cocoa powder I have ever had. "
" Big plus that it is allergen friendly for those who need it. I made the black velvet cake recipe for a birthday and it was a huge hit! "
The powder isn't pitch-black, but the result is!
Our Black Velvet Cacao powder is a deep dark brown, not black; but it darkens and blackens when used in recipes. Here's the thing: If we got the powder itself to the point of being pitch-black, it wouldn't taste that good; in fact, it would probably taste terrible! We've crafted a super-alkalized dark cacao powder that is well-rounded and great all across the board – it has a wonderful flavor profile and produces a very dark result when used in a recipe! To reiterate, if we alkalize to the point of a black powder, we run the risk of the powder being too bitter and having a "burnt" taste. We're proud of our premium quality, single-origin, certified organic, allergen-free cacao. Our powder is above and beyond just a coloring agent; it's a high quality cacao that is also flavorful and capable of producing absolutely delicious results! 
In addition, organic regulations put limits on the alkalizing agents and the amount that can be used. Non-organic black cocoa is not subject to this.
Depending on the recipe and how much of our powder you use, it certainly does produce a black result.